Der Jung Tuner Review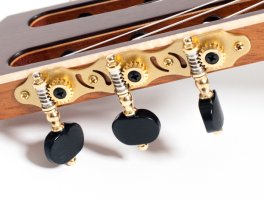 During the Guitar Foundation Convention in June 2013 I had the good fortune to meet a new dealer getting started in the classical guitar world - Jonathan Marshall. Jon is guy about my age and while I normally like to keep control of the marketing of my guitars, I have made a few guitars for him since that time. 
I took his advice a little skeptically on the Der Jung tuners because it was hard to believe that paying half the price of the Schallers I was using at the time could get me a much better set, but after I received the first set of Der Jung's work in the mail, I was sold.
I currently have a variety of Der Jung tuners for sale at ClassicalGuitarTuners.com
They sell a wide variety of designs that range in price from about $15 to $70. I decided to purchase the tuners priced in the middle - about $35. The tuners I received are half the price of the Shaller tuners I buy and an even small fraction of the price of some Rubner tuners I have recently acquired for a new project; however, the Der Jungs perform equally with them, if not actually better.
Although some of their designs are a bit eccentric, they are novel and this Taiwan-based company is certainly challenging the market's traditional price point for their quality.
About a year after first sampling the first set I bought I reached out to the company using the contact form on their website and had a back and forth email conversation with "Joe" (I am sure that's not his traditional name). They had a minimum order of 100 machines and they had just started selling the sets with roller bearings, so I decided to move forward with buying some sets in bulk. Although I have started using Sloane and Gilbert tuners as my main options, I used the sets I ordered for about three or four years and they work wonderfully. The set pictured can easily be taken apart for servicing or adjustments and thus far, none have been reported to have any issues.
The only drawback - In my estimation, the basic design of these tuning machines are essentially copies of Gotoh tuners. Dealing with anything made in China bears a possible lack of respect for intellectual property. This might not be the case, but this possibility has made me more hesitant to use them on my latest guitars.
Their Website - https://global-derjung.com