Guitar No. 8
Fan Bracing

Scale Length: 650mmm

Engelmann Spruce Top
Honduran Rosewood Back and Sides
Honduran Mohagany Neck
Flame Maple Binding 
Purple Heart / Maple Purfling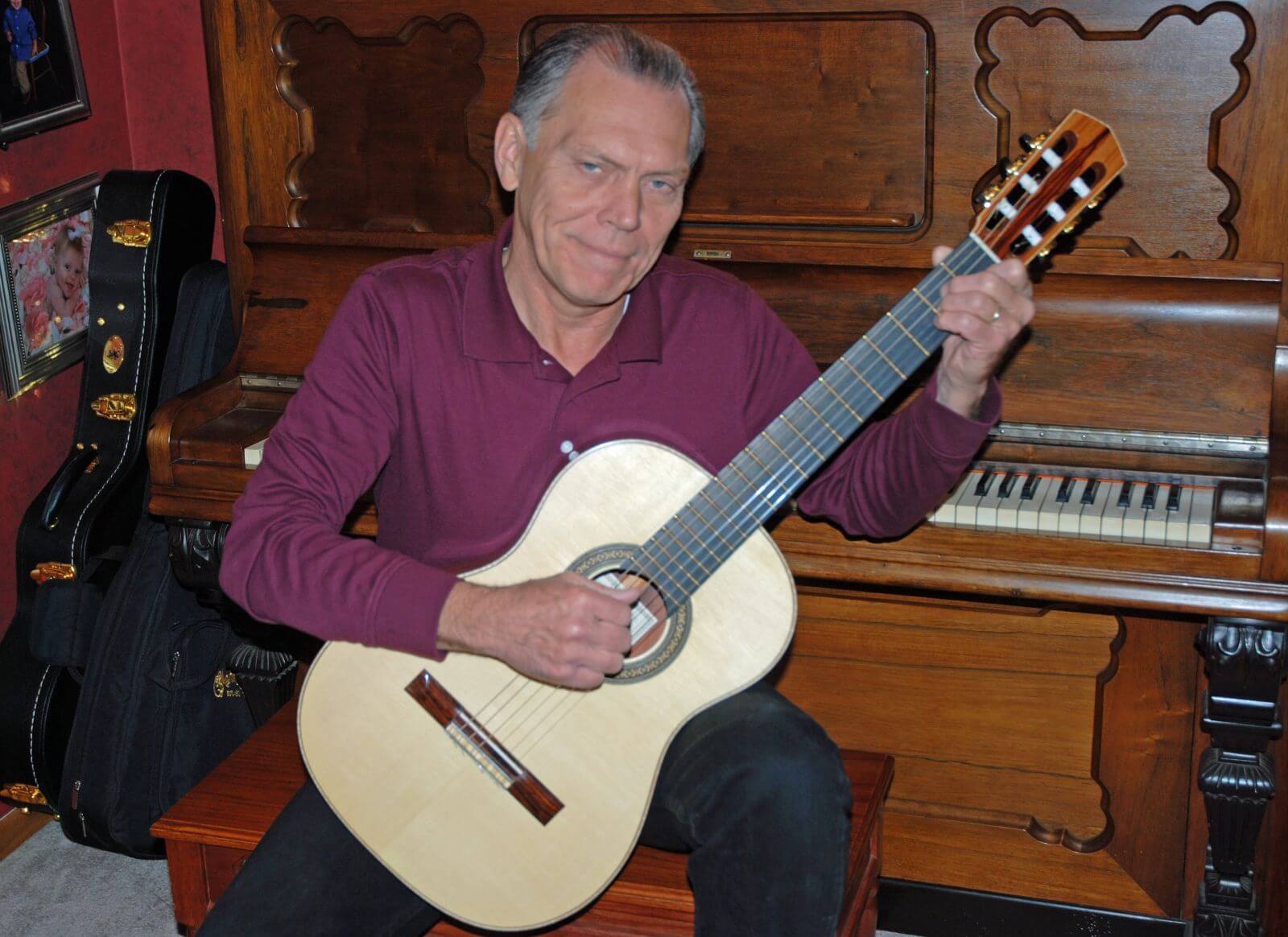 The owner of Guitar No. 4, John Gregerson (pictured at left with the guitar), ordered this guitar from me not long after receiving no. 4. John provided both the top wood and the Honduran Rosewood that he had selected some time ago. At first I was a bit sceptical about how the Honduran Rosewood was going to look with my trademark maple / purple heart bindfing and purfling, but I am very happy about the result. I think that the effect is completely different that when my design is paired with Indian Rosewood and I might even like it a little better. There is a slight brownish hue to the purple heart that blends well with the Honduran Rosewood.
In March 2014 I asked John for an update and he wrote:
"My first purchase as a young teenager was a steel string acoustic guitar. I loved the idea of playing the guitar but it was like being a first year beginner for 40 years. I didn't really progress. When my son asked if he could take my guitar to college with him, I said "sure, I don't play it anyway". No more than a couple of months after it was gone, I started to miss my guitar. Instead of duplicating what I had, I purchased an inexpensive classical guitar and fell head over heels in love with the instrument. I started taking lessons for the first time in my life and, according to my wife, did nothing but play my guitar. Since that time I have had many guitars, always looking for that perfect one. In the process, I found Zeb and commissioned him to make a guitar for me. I liked his story and his approach to guitar making. The resulting guitar exceeded my expectations. Zeb calls her #8, but I've named her "Bella", for she is truly beautiful to look at, to play, and the sound is exquisite.   

I don't consider myself an accomplished player, and may never be. But I love the instrument and regret finding it so late in life. I am thrilled to see that many new owners of Zeb's guitars are so young and so accomplished. What a wonderful way to develop as a player than with such excellent guitars! I'm a little envious of Zeb's younger clients being able to look forward to a lifetime of playing such fine instruments. Keep it up! I will live vicariously through their playing success."   
When John ordered the guitar, his only direction was to built an instrument that I would like to own. So, I decided to build my own guitar (the Jamaican wood guitar) alongside this one. The guitar body on this guitar is a bit deeper than I ususally make my guitars and I was a bit eager to see what effect it would have. I wasn't too worried about delivering a guitar that I would like to own and play, because that designation belongs to every instrument I make. However, this guitar's sound goes well beyond my expectations. I wanted the guitar to have the deep, room shaking basses that I love so much, and that happened, but getting the trebles to come out with a comparable volume and constrasting tone is difficult. I made some changes in my bracing design with this in mind, but for the first week of having strings on it, I was a bit worried that I had fallen short of my goal. Then, I placed some high tension carbon strings on the guitar and after a day of settling in, the trebles began to emerge. 
The resulting guitar has very deep sounding basses and bell like trebles, is very even from top to bottom, its easy to play, and packs quite a bit of volume.