Finally at the Saw Again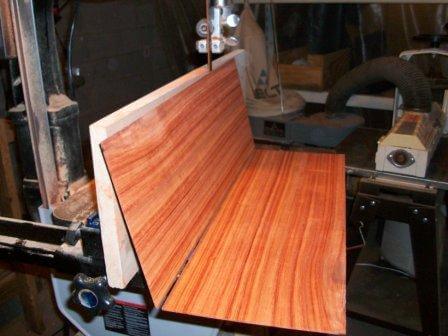 I am proud to report that after a month in disrepair, the 14" Delta Bandaw is now back in commission, and I celebrated by doing some serious mill work. Before the holidays rolled around I was in the process of replacing a bandaw blade when the Sliding Bracket (Part No. 905156) that adjusts the blade tension fractured. After calling several online parts distributors I had to accept that the part was on a national backorder and I waited a good month for this part to arrive before revisiting the issue and calling several other parts dealers online. I finally found one that had it in stock. Actually they had two in stock, so if you need one - Here they are.
I have been longing to slice the padauk I had in the wood storage room for over three months now and finally, today, I had the chance. The results as shown at left are a pretty good example of this orange colored wood. Strangely enough,  the color reminds me of the disinfectant that janitors used to clean up the puke of the kids in my elementary school - and the name "Padauk" isn't far from spelling puke.
Well, here's a mature look at this wood - Padauk was prized as a musical instrument wood long before luthiers discovered it. Giving it a strong tap unleashes a strong fundemental tone that made it a luring material for drums in Africa. The Padauk that woodworkers use generally comes from Africa and luck would have it, their leaves are an edible vegetable containing quite a bit of vitamin C. So the tree whose sawdaust looks like puke disinfectant also happens to be part of a healthy diet. Before you get on a boat and sail to mainland Africa also consider that the wood dust does causes rashes on some people. Thus far I am showing no symptoms, so let's cross our fingers. 
I should be able to get about 5 guitars from the Padauk boards I have in stock and although this wood is a bit new to the classical guitar scene, I predict that it will continue to grow in popularity, because its acoustic properties quickly become obvious to those handling it. I am looking forward to the results.