Dieter's Concert
On March 4, I made a journey over to Clarksville, TN and Austin Peay State University to attend Dieter Hennings guitar concert. I made the trip with a photographer, Ron Baker, who bore witness to the crazy tornado damage along I-40 as we drove. Dieter has been performing on Guitar No. 56 for about one year and this was the first opportunity I had to attend one of his concerts. Austin Peay's guitar professor (owner of la Campanella) normally hosts a small guitar festival every year between February and March and Dieter's concert landed the day after Ana Vidovic performed.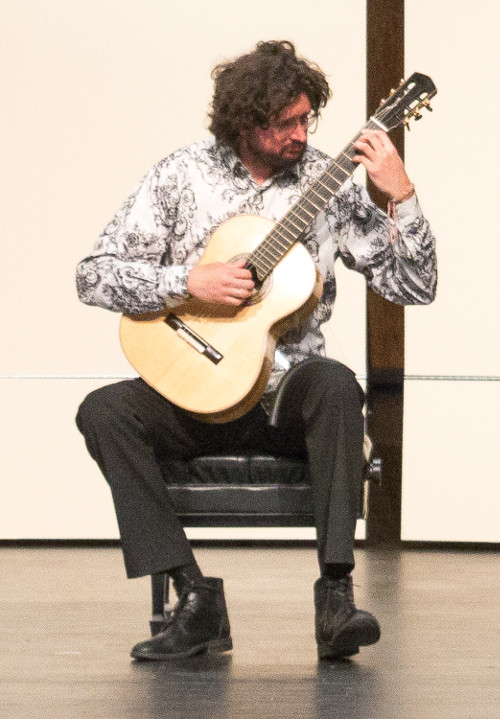 Dieter Hennings is the professor of guitar at the University of Kentucky and is a virtuoso soloist and chamber musician, in addition to being a superbly kind human being. About three years ago he made a visit to my shop to have me glue a bridge back on an Arch Lute. Upon his visit he had a chance to try out Guitar No. 30 and shortly thereafter requested that I create a guitar for him inspired by the sound of no 30 but with a longer scale and a larger body (for those familiar with Dieter - he makes normal guitars look rather small and toy-like). These maple guitars have been a real joy to build and there is something really special about the smooth focus and sustain that each of these guitars possess. During Dieter's concert I had an opportunity to hear these characteristics in a large hall and it's definitely among the more rewarding experiences a luthier can have - watching a skilled performer use one's creation after spending a year of practice with it.
Dieter had previously owned a Simon Marty guitar and, so it is certainly validating to see that the guitars I am designing are on par with such makers instruments. I am striving every day to create a unique voice for the guitar that adds a special color to the classical guitar repertoire that doesn't sound like a scientific experiment, and these maple guitars are really in line with my goal.